0
Camps Settings
Overview
The Camp Settings is where you do the bulk of your set up for Classes, Session, fees, and data collection for registration.
Administrators
This section allows you to add additional Camp Administrators. The additional levels of access only provide access to the specific Camp, and nothing else.
The levels of access are:
Full Admin - allows for complete access to the entire Camp. This is generally good for a Head Instructor or parent who is directly responsible for the Camp or other critical personnel.
Basic Access - allows for entry access. This is best for summer camp instructors who only need access to critical information, and are not allowed to make any major changes to other Camp settings.
To add a Camp Admin, click the +NEW ADMIN button, and provide an email.
If the user already has a Clubspot account, we'll send them an invitation to their email. The user MUST accept the invitation in order to gain access to the Camp.
This is to provide you with an extra level of security when sharing access to your participant's sensitive personal information and contact details. If the user you invited does not have a Clubspot account, we'll create a temporary account for them, and then walk them through the process of creating one and logging in for the first time.
In addition to the access you are given or grant to others, we also display additional access other users might have under the External Access section. These permissions are granted whenever you add membership validation, and anyone with access to that organization will also gain access to your event as a Full Admin.
Basic Details
The Basic Details section is where you can set up the basics of your Camp that are important for visibility and initial registration setup.
Certain settings have far reaching effects, so its important to understand how they can be used for your Camp.
Camp Settings
The Camp Settings offer a few pieces of information including Camp name, start date, end date, a late registration date, and a registration deadline.
Additionally, there are are switches for whether Registration is Open or Closed, whether it's Published, and if you will allow Guest Checkout. Some of these setting may only be visible to our Custom Account users.
The Camp Settings may be changed anytime and generally don't have an effect on anything apart from the Late Registration date or the Registration Deadline.
The Late Registration date/time is the time in which the specified Late Fee will apply to any new registrations.
The Registration Deadline is the date/time in which registration will close for your Camp. The timezone used for this setting is base on the user's device. So if you are setting this time using a computer on East Coast timezone, it will use EST.
We recommend always setting a Registration Deadline

We've seen instances of participants accessing previous Camps and signing up, and would recommend that you close these so that accidental sign ups cannot happen.
The Published switch may be used when you are ready to make your event live. The event can also be run in hidden mode. For a Custom Account, the published switch will automatically publish the event onto the Club calendar on your website if you have a Calendar Component added to a portion of your site.
The Allow Guest Checkout switch seen in the screenshot above is for Custom Account users only. This switch sets whether your event is for members only, or whether its for members and guests (non-members).
Main Image
The Main Image allows you to upload an image that will be displayed on the Registration page of your event. To upload an image, click on the image box.
 Clubspot recommends an image size of 600p x 300p for best results
Cancellation Policy
The Cancellation Policy is a great way to share any last minute information such as refund or cancellation policy, or it can also be used as an 'I Agree' text if worded properly.
The text you provide here will be shown on the final step of the registration process.
Archiving an Event
Should you need to completely remove your Camp from your Club's dashboard, you can find the Archive button at the bottom of Settings > Basic Details.
Clubspot never deletes Events, it only removes them from your dashboard. We do this in order to maintain important accounting information for reporting purposes. Loss of this data would provide inaccurate reporting for the life of your account.
If you need to un-archive an event or have accidentally archived your event, please email Clubspot Support with the name of the event and what Organization you are with.
️ Archiving an Event will remove it from your Dashboard and from your Website
 How can I close my registration?

Registrations can be closed in a variety of ways depending on what you want to accomplish:

Registration Deadline - Will allow you to set a date/time in which all registrations close, found under Settings > Basic Details
Specific Registrations - you can control which Classes or Sessions are available to register for by clicking on a Class and changing the status to 'Unavailable' or by clicking in a Session and deselecting it from the corresponding Class
Inbound Payments
Payments Overview
Inbound Payments provides you an extra level of control for the different types of payment methods you would like to accept for your Camp.
For more information about how fees are assessed and your available options, please see the Receiving Payments section under the Camps intro of this guide.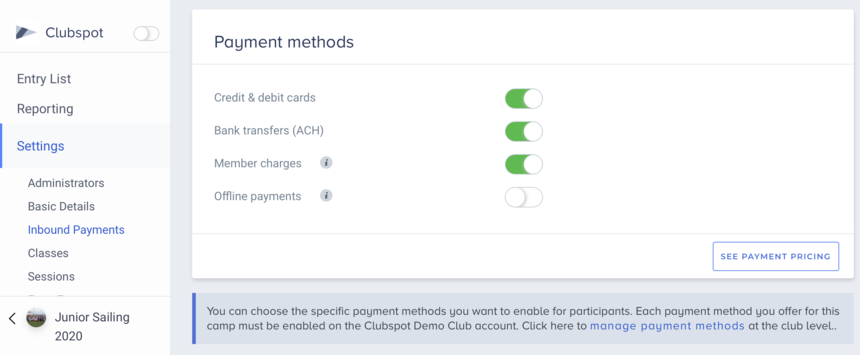 Here's an overview of what you can expect from each of the Payment Methods:
Credit Card allows the user to enter any major credit or debit card during the registration process
ACH allows the user to pay using their bank account through an integration we offer. Clubspot recommends enabling this option as processing fees are very low.
Member Charge allows members of your Club to use their club member number to make a payment. These charges will show as 'Processing' and require approval from an Admin.
Offline Payment is considered a cash or check payment, and requires an Admin to mark the registration as 'Paid' once the payment is received. Clubspot generally does not recommend the usage of this payment method.
Advanced Payment Methods
Clubspot has the ability to force the user to place a payment method on file either with a credit card or a bank account. This switch should only be used if you plan on using a Hold.
 If a Payment Method is unavailable, you will need to enable it at the Club level first
Classes
The Classes section is where you can begin to setup your Camp sign up options. In general, Classes are intended to be your different levels of availability such as Learn to Sail, Intermediate, and Advanced.
When you set up your Camp, we recommend thinking about how you would like to use our Entry List tools to help manage your participants. Classes is the first step to help with filtering, and we recommend that you treat this as a high level option, with Sessions underneath it.
After adding a Class, you can click into it to view additional options such as Availability and Description, along with enabling E-Signatures if required.
Basic Details

The Basic Details allows you to edit the name of the Class, updated the Status on the registration page (available or unavailable), add a description, and enable members only if applicable. If you switch the Status to Unavailable, this Class option will not be available on the public registration page. If you flip the Members Only switch for a chosen Class, it will require the registrant to provide a member number in order to move forward on the registration page.
Subclasses

Clubspot does not recommend using Subclasses unless it is specifically for breaking up your Class into Instructor/Student ratios. There are no payment or communication options for Subclasses.
E-Signatures

In order for a configured E-signature document to be sent, you must also enable it at the Class level. To do this, click on the E-signature menu tab and you'll see all of the enabled documents for your Camp. Click on the 3 dots to the right to require the necessary documents.
Learn more about how to enable E-signatures for your Camp.
Click on the 3 Dots on the Class row to update the display order on the registration page
 
Sessions
Sessions are the child of the parent Class, and there may be any number of Sessions available for a Class. In general Sessions are intended to be how often the Class is available. For example, your Learn to Sail Class may run in a week by week block, or 2 weeks by 2 weeks, or perhaps one 4 week Session. Pricing is generally configured based on Sessions, so please consider that when setting up your Camp Classes and Sessions.
After adding a Session, you can click into it to edit the name and the dates that the Session will operate. Please note that once the date has surpassed, the Session will no longer be selectable.
You can also select which Classes the Session applies to. The default is that a Session will apply to all Classes unless changed.
️

Deselecting all Classes from a Session will make it unavailable on the Registration page.

This is best used if you need to temporarily remove an option for Registration, or if you internet to stagger availability.
Entry Fees
The Entry Fees table corresponds with the Sessions you've added to your Camp, and pricing should be configured accordingly. Clubspot highly recommends running through a Registration flow to ensure pricing, discounts, and setup is what you expect.
General Entry Fees & Deposits
You can toggle between Standard, Late, and Deposits to add the necessary rates. Standard and Late can also be used as Early Bird type fees and regular fees if your Organization uses that type of pricing structure. The amount entered in the Late Entry Fee column will be charged based on date/time you specifically in the Basic Details section.
Deposits were added as a COVID response tool to allow registration for your Camp without participants committing significant money, or without the Club taking a big risk should you need to cancel the Camp and refund everyone.
A minimum of $1.00 is required for deposits, and Clubspot will create a draft invoice for the difference. Lets say you have a $100 entry fee, but collect a $5.00 Deposit. Clubspot will charge $5.00 to register, and create an invoice for $95 that will sit in the registrants entry details. As the organizer, you can choose when to send this draft invoice at any point in the future, or not at all in the event of cancelation.
Member Discounts
Clubspot allows you to configure Member Discounts to provide member benefits, an industry first and something only available on Clubspot. The amount you enter in this section is the Discount they will receive off the Entry Fee, not the total amount being charged.
If your Club has different categories of membership that might receive different discounts, you can configure different types of discounts depending on the Category by clicking on the different menu tabs.
Bulk Discounts
Bulk Discounts can be applied in a number of different combinations to provide discounts based on the number of Classes or Sessions a participant signs up for. Please be aware that these discounts apply on an individual registration basis and are not applied over a family or multiple registrations. At this time, Bulk Discounts are only a whole dollar amount, and not percentage.
Bulk Discounts require that a minimum of X # of Sessions be configured for the discount to be applied. If you would like this discount to apply across multiple Class selections, be sure to flip on the Cross Class switch located in the top right of the Bulk Discounts Table.
After adding the # of Sessions necessary for the Bulk Discount to be applied, you can also configure additional parameters including whether the discount applies only to certain Classes, or whether is applies to specific member or non-member categories.
Entry Caps
The Entry Caps table allows you to set either a Session by Session allowance, or a Cumulative cap. These two should not be used simultaneously. A Cumulative cap will look at all entries across the chosen Class whereby a Session by Session cap will look at the number of registrations per Session.
At this time, payment is required in order to be placed on a waitlist.
Caps can be adjusted anytime, and it will immediately move those who are on/not on the waitlist automatically. Clubspot does not send out any automated messages if you adjust these numbers, but a notification is sent alongside the confirmation email they receive if they are waitlisted.
Waitlist
Once on the waitlist, you can use the Waitlist filter in the Entry List table to view those on the waitlist.
Here are a few common examples of how a waitlist is used, and what happens when you perform an action:
Removing a confirmed entry from the Session will automatically move the first waitlisted entry off the list and into the confirmed list. Clubspot will not send any automated messages to anyone moved off the waitlist.
Moving an entry from one Session to another will re-order the waitlist if that registrant being moved to the new Session entered the Camp before others. This means its possible that someone currently on the confirmed list may be moved to the waitlist.
You may also confirm a waitlisted entry without impacting other entries or positions on the waitlist.
To manually confirm a registrant who is waitlisted, click into the Registration and then Class & Session. Select the Class that is waitlisted, and look for the orange Waitlisted button. Click on the button to toggle between Waitlist and Confirmed.

Once a registrant is 'accepted from the waitlist', you will need to manually send the draft invoice. This will therefore notify the participant that they have been accepted. There is not automatted message or invoice sent once accepted from the waitlist. This allows the Admin to be in control of who is accepted. You can also send a Communication to those accepted from the waitlist. You can do this by creating a 'tag' or by emailing those accepted individually. 
Membership
Clubspot is connected to a number of other Classes, Associations, and Organizations who also rely on our services. You can use these connections to force or suggest membership validation during the registration process for your Camp.
To add a Membership validation, click the + VALIDATION button. You'll see a number of different Organizations that you can choose from.
 Clubspot supports multiple membership validations at one time

For example, you can require both US Sailing membership and another Organization membership for the same registration.
After connecting a membership validation, you can click into the Organization to view some additional settings. These settings include whether it is required or optional and which Classes the membership validation applies to.
Sanctioning Fee

The Sanctioning Fee automatically charges a nominated fee and passes it off to the connected membership account. This is an easy way to automatically distribute funds if you need to send funds to the nominated Organization.
️ Clubspot recommends turning off member charges and/or offline payments if you are collecting Sanctioning Fees.

Member charges or offline payments will require manual reconciliation and distribution of Sanctioning fees, so disabling them as payment options will make the process easier.
Data Collection
The Data Collection section is where you can configure the inbound data you need to know about your participants for the Camp. Clubspot collects a lot of standard information out of box such as First Name, Last Name, email, mobile, medical details, and emergency contact information including name and mobile. Common additional data may be configured by flipping the switches in this section.
 If you enable Parent/Guardian information, we will use this as the default contact information for sending e-signatures and all communications
 Data Collection options apply to all Classes
Custom Fields

For any additional information that you need to collect, you can use our Custom Fields. You may come across an error message if we feel your question is too close to a standard question we already ask, or if your question is trying to collect personal information such as credit card numbers or legally binding answers.
Custom questions can be configured to specific Classes after they've been created.
Dropdown type questions also give you the possibility of configuring automatic coupon codes or price increases or decreases based on the response. To add a price change or coupon based on a response, click on the Dropdown Option after adding it.
To configure a response based discount, first, create the Custom Question and set it to Dropdown List.
After creating the question, add the response options, and then click on the response that triggers a discount, then select the Coupon. Note that you will need to have the Coupon configured before this can be done.
Coupons
Coupons can be created as part of your Camp for things like Earlybird Discounts or promotional reasons. To get started, click + NEW COUPON.
Coupons can accommodate both fixed and percentage prices, and have a range of switches available to you.
Available - will disable the coupon if turned off
Stackable - will allow you to use the coupon alongside other coupons if enabled
Compatible with member discounts - will allow members who might already be reaching a discount to redeem a coupon for an even bigger discount
Coupon usage is tracked as part of the Reporting process so you can see who used a Coupon with their registration.