0
Regatta Entry List
Learn how to manage your entry list from Clubspot in the most effective way. 
Entry List
Overview
The Entry List is your hub for organizing and communicating with your sailors. We'll look at the ways in which you can use it to be most effective.
Search Bar
Filter
Exports
Emails
Add Entry
Entry Table
Search Bar
The Search Bar should be your go-to for locating a registration. You can use Skipper first name/last name, Crew first name/last name, or Sail Number as search parameters. Keep in mind that if you have a Filter applied, it will also only search for the terms based on the Filter(s) applied.
 
Filter
You can use the Filter to view your registrations by Boat Class(es) and additional Filter options including waivers and waitlist status. You can also multi select any combination of Boat Classes or additional Filter options to view what you need to.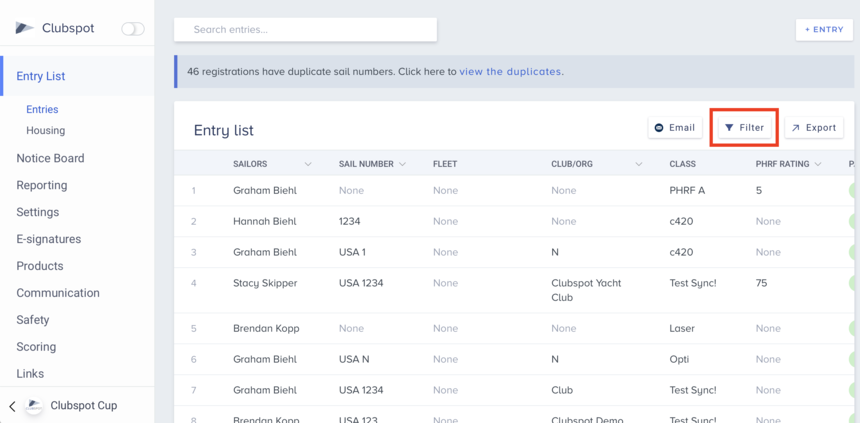 Looking for specific Export options?

Any Filters you have applied will also directly correlate with the Export option you would like. Use the combination of Boat Classes and Scratch Sheet Export to generate on the water check-in sheets or other useful lists.
Exports
You can use the Export button to choose from pre-formatted reports that are most popular when running events. Exports will take into account any Filter you have applied so be sure to double check before exporting the data.
All Clubspot data exports use .csv which can be opened in Microsoft Excel or Apple Numbers.
Participants will provide all registration information including responses to custom questions.
Billing will provide you will all the billing details for the registration. (Also consider using the Reporting section for more detailed information.
Scratch Sheets will provide basic check-in sheets which are intended for Race Committee use.
Emergency Forms will provide a single page printout of each competitor with all their personal and emergency contact information as well as medial issues.
 REMINDER

Exports are specific to any Filters you have applied, so double check you have the appropriate Filters applied for the data you wish to export.
 Looking for Waiver Exports?

Head to the E-Signatures > Contracts view in your Event to Export all the finalized waivers for safe keeping.

Note: unsigned or incomplete waivers will not be included in the export.
Email
️ Don't forget to connect your Mailchimp account!

Clubspot recommends connecting a Mailchimp account so that participants receive branded emails. If you do not connect a Mailchimp account, your email will come from support@theclubspot.com and most likely you will not receive any replies.

You can connect a Mailchimp account in the Club Dashboard > Communication > Settings.
The Email button is how you can send bulk communications to your participants. If you have filters applied, it will only email those filters you have selected.
After you click Email we'll launch an email composer with standard editing markup options available. Depending on the size of your event or the Filter(s) you have applied, it can take a few seconds to launch the composer.
The composer offers standard text editing capabilities and embed options.
 Check the FROM email address to make sure its coming from the right place

The FROM email listed is also where replies will be sent. If you need to add additional domains, click the arrow next to the email domain to add and verify additional domains.
When you send an email, we send the email to the Parent/Guardian email, the main contact email listed for the participant, and also the same for any Crew that might be listed on a registration. You can find a copy of the email you send under the Communications menu.
Add Entry
The + Add Entry button in the upper right is your event admin option for manually adding a registration.
Please note that we only require a minimum amount of information and DO NOT automatically send out any invoices or waivers. The only notification we send out is via the email you use to notify them they have been added to an event.
As an admin you will need to add the boat to thee appropriate boat class, assign them a sail number, issue an invoice if necessary, and issue a waiver if necessary.
Entry Table
The Entry List table has numerous columns and sort options to help you visualize your registrations, and also help speed up the in person check-in process for your event. The columns we display from left to right are: Sailors, Sail Number, Fleet (if applicable), Club/Org, Class, PHRF Rating (if applicable), Payment, Check-In, E-signatures, and Created at.
Some columns have a "V" arrow on them indicating that they have sorting capabilities. These column headers can be clicked on to toggle alphabetically or numerically anytime in conjunction with Filters.
Note - the Entry List table uses pagination to improve load performance and expects users to apply filters, sorting, and utilization of the Search Bar to find the registration(s) they are after