0
Managing Social Event
Managing your Social Event
First, log in to your Clubspot account as an Administrator, go to Events then Social Events and click the button in the top right corner [+Event] 
This will bring you to a new screen where you can enter the Event Name and Date. You can also click the "white circle" to allow for Guest checkout and click if the event is recurring. 
It may take a moment/couple of minutes for the event to be created. Once complete click 'Manage Event'. This will bring you back to the dashboard.
Once in the Social Event dashboard, you can start to update and manage all event settings 
Settings include all event details including basic details, ticket options, pricing, entry caps, data collection, and documents related to the event 
Basic Details: click [Edit] in the lower right corner to change event details 
Basic Details also includes a section for an image upload as well as a description for the event to be included on the Event Page. 
Ticket Options: create different ticket categories and pricing for the event 

Standard Ticket option will default be the first type of ticket created. You can either keep this, change the name, or archive a ticket type. 
Once the ticket options are created, you can update the pricing for each. Simply  click on the specific ticket type and enter in the pricing details, then click UPDATE
To archive, a  ticket price, simply click the three dots next to the ticket type.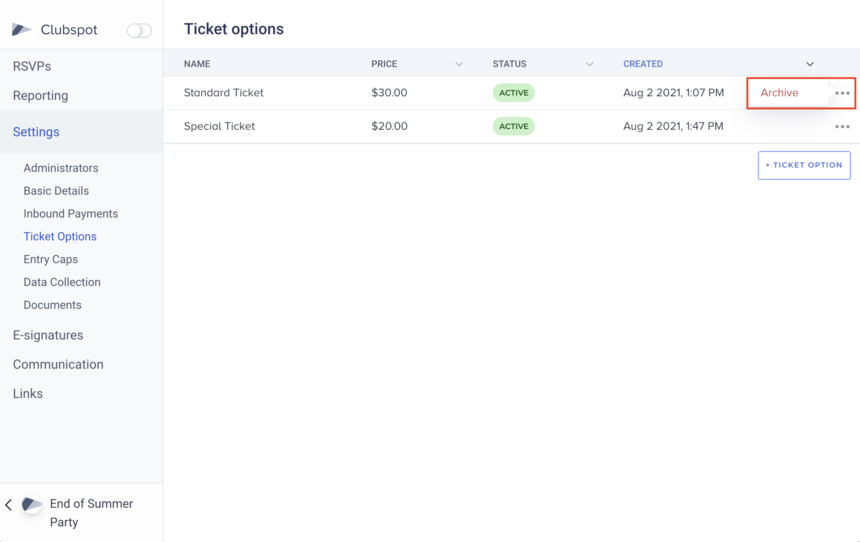 Entry Caps: once ticket options and pricing are set, you can update an entry caps or maximum capacity available for ticket types. Default is unlimited 
Data Collection: This allows you to create a custom question related to the registration, outside of basic details of name, email, and phone number.
For example, if you want to ask about dietary restrictions you can add a question here for participants to complete with registration.
To add a question, click [Custom Field] and enter the question. You can then create this as a text field, number, drop-down list, multi-select, text response paragraph, or file upload. You can also either make this a required or optional question by clicking the green button. The default is to make this required.
Once the question is created, if there are options i.e. dropdown list or multi-select you will need to create these options for guests to select from. To do so, click into the question, Options tab and then click [+Custom Field] to enter the answers/options for the question posed to participants 
Documents: allow you to upload a PDF of event-specific materials. For example, Save the date, menus, etc. To add a doc, click [+Document] and upload a doc
E-Signatures: this is a feature to allow for a waiver to be signed. For example for an event a COVID awareness waiver or content form to attend the event. To upload a new waiver, click into Templates and then [+Template] to upload a PDF which will be converted into an electronic document for participants to complete online. Once signed by participants they will be saved under Contracts for future reference or export. 
Communications: This allows you to send emails or text messages to RSVP participants. 
Links: these are direct links to the Events Page and Registration page for your event. The Event Page includes a [sign up now] link to the registration page so is recommended to be used for any email communications so guests can see the full event details prior to registration 
You can test the registration flow by clicking either the Event Page or the Sign-up Page. 
Once someone registers, their RSVP will show on the Event page. Participants will also receive an Order Confirmation and Event Registration RSVP.