0
Club Communications
You can communicate with club participants through Clubspot with the integration of your Mailchimp account.  You can check if a Mailchimp is connected in Communication > Settings. Reference Mailchimp Email Account Setup article as needed.
 Email List 
The email list is inclusive of all those participants who will ultimately receive communications from the club. The status lists if the participant is subscribed and if there are any associated email tags. 
Email Tags 
Email tags allow you to create groups for specific participants whom you would like to email/text for specific, targeted communications. For example, senior members or sailing committee members. To do so, go to Communications > Email Tags > [+New Tag]. 
 Once the email tag is created, you then can 'tag' those participants that should be included on this 'mailing list'. 
Click into the email tag and scroll down to Subscribers. Then find the respective participant and click the three dots, scroll all the way to the right, to 'tag subscriber'. 
 Once tagged, this will show in the participant's status.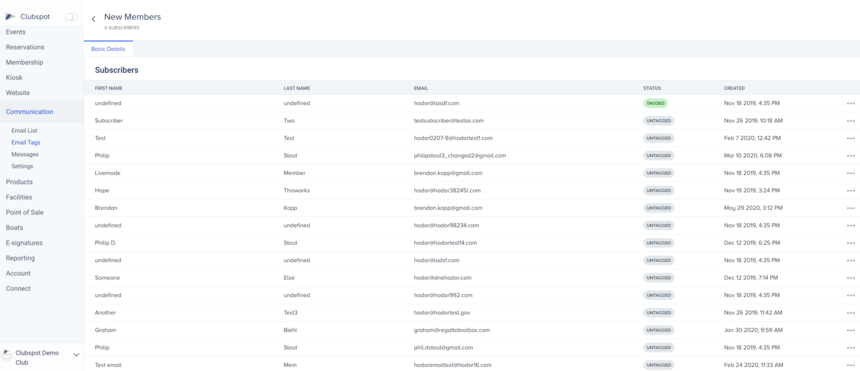 With the email tag created and the participant subscribed, you can now email the tagged group. 
Go back to Email List, Filter for the specific email tag and then click [MSG] which will populate an email draft for that specific email tag group.