0
Camps Communication
Overview
Clubspot has a few options available for communicating to your participants as part of the confirmation message process and Camp communications.
Messages
The messages view allows you to see all past emails that you have sent out, and by clicking into an email, view the delivery status of each person the email was sent to.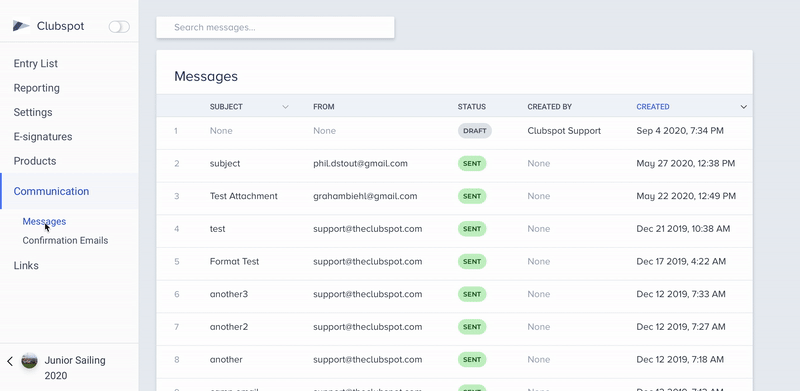 We send emails to the participant's email and any Parent/Guardian emails as well
Filtered Messages
You can also filter messages to send a bulk email to a specific group of participants. For example, those participants who still have 'incomplete e-signatures / waivers' to complete. 
Confirmation Emails
Whenever a registration is processed for a Camp, Clubspot will send a confirmation message, a receipt (if a payment was processed), and an E-signature document (if activated). Clubspot has a default confirmation message with basic information, but the confirmation message can be customized.
To customize the Confirmation Email, head into the Communication section and look for Custom from the available options.
Here's an example if what a standard Confirmation Email looks like through Clubspot, including the notifications for a Waitlisted Class.
 The FROM address for your Confirmation Emails can be updated in the Club Account Settings under Account Details

If an email is not provided, emails will come from a no-reply@theclubspot.com