0
Laser Master (ILCA Master) Scoring
Registration Setup
To enable Laser Masters registration at your event follow these steps:
Create a new class labeled Laser Master
Click into your newly created Class to add the Master divisions which will be at your event. NOTE: ensure that the "registration rules" have been set to "user selection" by clicking into the division after creation and enabling. If this is not selected, you will have to manually sort every entry yourself in order to filter results to the various master categories.
Next, navigate to the Scoring section on the left-hand side of the screen
Select your newly-created Laser Master class
Select "Scoring Method", and click on Laser Master to change the scoring method from the default of One Design and that's it! 
When you enable Laser Master scoring for a class, competitors will be prompted to select their appropriate Laser Master rating (based on their age) from a dropdown during registration, which will then be applied to each race they are scored in for that event. 
Changing Laser Master Rating
If a competitor mistakenly gave themselves the incorrect Laser Master modifier, you can easily change this at any time (either months prior to the event, at check-in, day 2 of the regatta, etc) by following these steps:
Select the offending entry from the Entry List

Navigate to the Boat section inside of the registration 

Select "Edit" in the bottom right corner of your screen 

Click on the "Laser Master Rating" dropdown, and change it to your desired modifier for that sailor

Click the "Update" button, and those settings will be saved!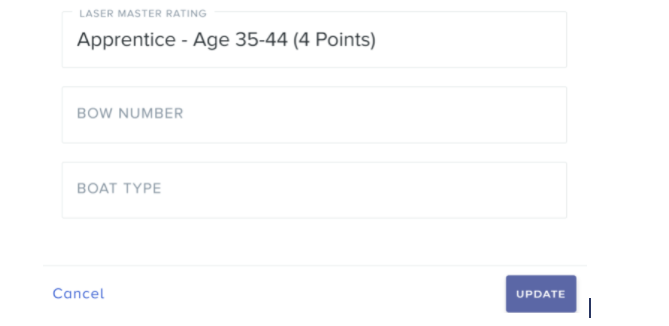 How to Score Laser Masters
Scoring Laser Master events is identical to scoring for One Design - the only change will be on how the scores are outputted. A quick overview is listed below, but please also check out our "Scoring A Regatta" help article, linked here: SCORING A REGATTA
Launch your Scoring Panel, located under the Scoring section of the regatta navigation panel. 

To Score, all you need to do is click on the Boat in the left column. It will move to the right 'Scored' column automatically and be placed in the correct order.

 

You can also use the search bar to look up boat details based on Sail Number, Country Code, or Boat Name

 

 

If you need to assign a Letter Score or if you need to remove the Boat because of an error, click on the scored boat you wish to adjust. Letter Scores will either take into account any Scoring Setup configuration or ask for the points you wish to assign. Boats will remain in their position should you need to restore the original finish. Clubspot will automatically recalculate scores for display on the public results page.

 

 

If you need to reorder any scored boats due to a scoring error or protest decision, you can click on the 4 dots to the left of the Position to drag-and-drop the Boat to a new Position.